14 AMAZING VEGAN RESTAURANTS TO TRY IN GOA
Carnival is just around the corner and it's a super fun experience for you and your family. To help you out, we're giving you a list of fantastic vegan option restaurants that have been tried and tested by vegan home-chef Vinita Contractor. Happy eating and don't forget to send us pictures of your Carnival outfits!
Goa has always been an eternal favorite for me, so the prospect of discovering something new in an often visited place was quite exciting. I landed at Goa airport and casually started looking up restaurants. I'm usually one to plan well in advance, but here I decided to go with the flow.
I thought Goa had only 2 or 3 officially listed vegan restaurants but I soon realized that I was indeed spoilt for choice and my tummy felt utterly pampered over the course of 7 days. Just because a restaurant wasn't listed as a vegan restaurant didn't mean they didn't have vegan options. This wasn't evident from Zomato, Trip advisor or Happy Cow. A 'vegan-friendly' option would have actually made this a lot easier for tourists like me.
GOA – THE VEGAN PARADISE.
The Goa food trail starts from the North and goes all the way to the South. There are and will be many more restaurants which offer vegan options as the word is getting around.
HIPPIES GUSTO RAW VEGAN ICE CREAM CAFÉ
LOCATION: ARAMBOL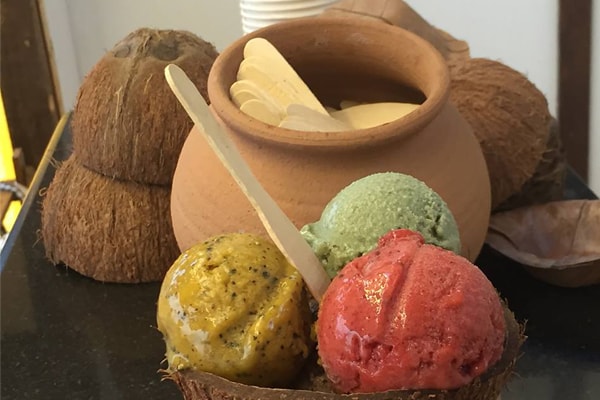 Image Courtesy Hippie Gusto
 
This super cool place serves the most amazing selection of 100% raw, vegan, homemade, sugar-free, milk-free, egg-free, additive free, healthy and extremely tasty ice cream! They have a detailed description of superfoods and their benefits and use them liberally in their ice cream. You also can get personalized ice cream to suit your taste buds. The ice cream is served in a coconut cup, which has a great visual appeal too.
Vegan First Rating:  ***
MAYA'S ORGANIC CAFÉ
LOCATION: ARAMBOL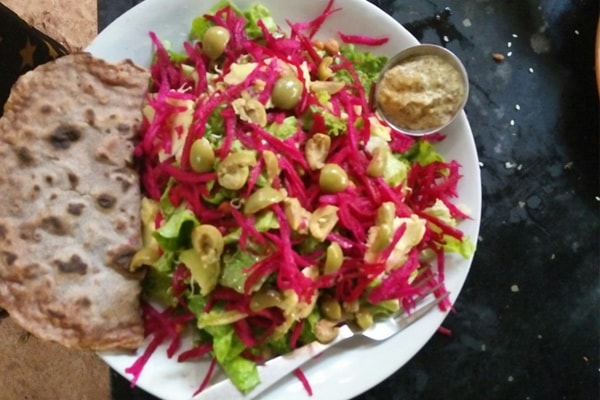 Image Courtesy Vinita Contractor
A vegetarian organic restaurant with a number of vegan and raw food options that range from shakes, breakfast, meals, desserts. Vegan pumpkin curry, enchilada with raw hummus, ravioli with pesto, cannelloni and the raw mango pie was really a treat! We left with happy stomachs and smiling faces.
Vegan First Rating: ****
SHANTARAM RAW
LOCATION: ARAMBOL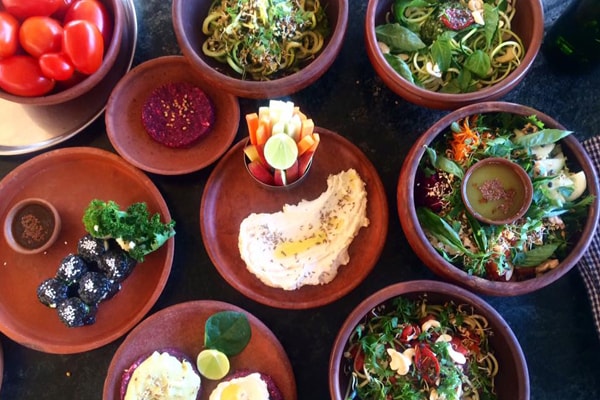 This is a lovely raw food restaurant which has a rooftop deck and an open kitchen. Their raw thali, salads, pasta are big crowd-pullers!
Vegan First Rating: ***
MAA CAFÉ
LOCATION: ARAMBOL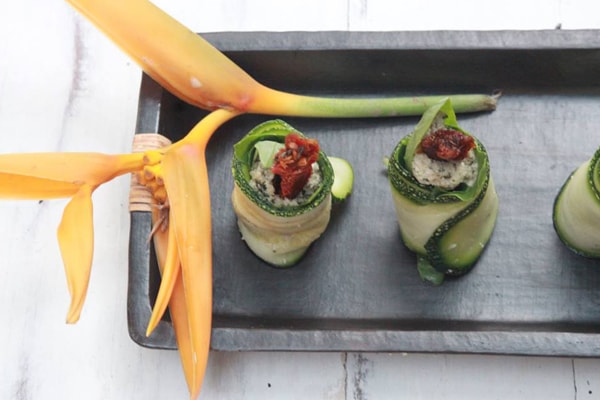 Image Courtesy Maa Cafe
From the same team as the popular 'Bean Me Up', this café boasts not just of vegan food but raw vegan food! The food is prepared without cooking or baking. A blender and dehydrator take the place of an oven or stove. Smoothies, cheesecake, ice cream, burrito and pizza are some of the items on the menu. Everything was delicious, super healthy and served in an eco-friendly and serene setting.
Vegan First Rating: *****
BEAN ME UP
LOCATION: ANJUNA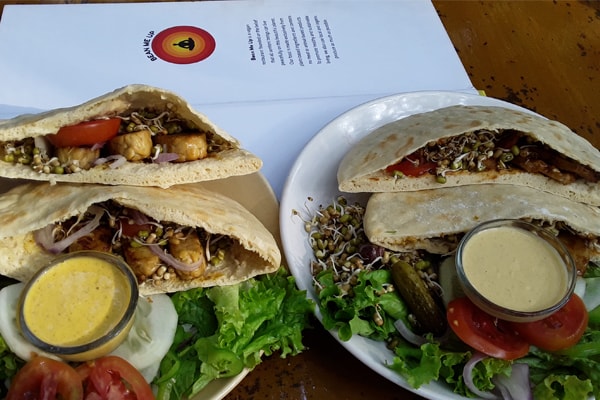 Image Courtesy Vinita Contractor
 
Shawn, owner of Bean Me Up has attempted and successfully created food that truly reeks of innovation and creativity. Their tofu burger, tempeh steak sandwich and bbq seitan sandwich were legendary. The tempeh and seitan are made by the Bean Me Up team from non-GMO and organic ingredients. The menu is detailed and contains useful and relevant information which explain ingredients such as tempeh, seitan, kombucha, tofu etc. They serve salads, starters, pasta, mains, smoothies, desserts, ice cream as well as a special breakfast menu. The open-air restaurant has a relaxing ambiance and is completely vegan, surrounded by a lot of greenery. For those who just can't get enough; can choose from accommodation options at their guesthouse on-site!
Vegan First Rating: *****
GERMAN BAKERY
LOCATION: ANJUNA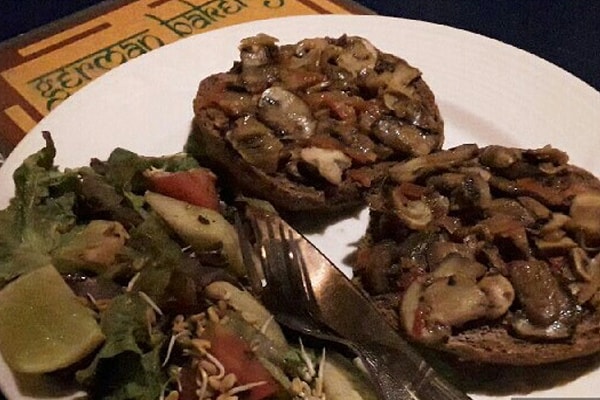 Image Courtesy Vinita Contractor
This quaint little cafe with its warm lighting and cozy seating also has many vegan options to offer. The waiters were well versed with veganism, even though the items weren't categorically marked as vegan. Once they understand your food preference, they recommended what is suitable.
We tried their buckwheat roll with sautéed mushrooms, tofu in cashew curry, vegan chocolate cake, dark chocolate with almonds, chocolate bounty style, gluten free cookies and a salad which was easily veganized by simply omitting the cheese.  They have a counter selling organic foods such as millets, herbs, tea etc which is convenient for people to pick up from on their way out.
Vegan First Rating: ***
RUTA'S ROADHOUSE
LOCATION: ASSAGAO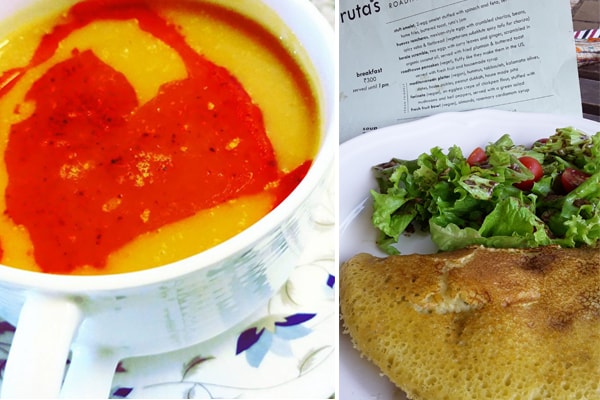 Image Courtesy Ruta's and Vinita Contractor
Ruta's Roadhouse is housed in a cottage with indoor as well as outdoor seating. It is a local eatery with a fantastic global menu. The restaurant is owned by Chef Ruta who relocated from San Francisco. They make everything in-house: their specialty bread, crisps, jam, mustard and much more. They have a couple of vegan options and choice of nut milks for drinks/beverages. The garbanzo flour omelette was cooked to perfection with a salad on the side and French press coffee with soy milk – indeed made quite a hearty breakfast.
Vegan First Rating: ***
 
BABA AU RHUM
LOCATION: ANJUNA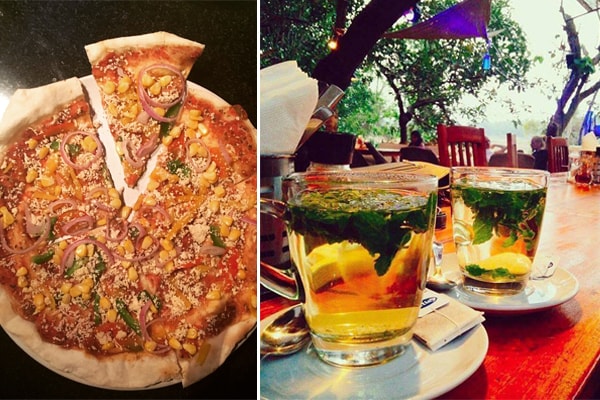 Image Courtesy Vinita Contractor and Baba Au Rhum
 
This love garden restaurant is a French café and bakery predominantly known for its pizza. It does not have a separate vegan section on the menu but the staff is aware and on explaining, will recommend what is suitable for vegans.
They do have a vegan tofu thin crust pizza on their menu which was pretty good and most vegetarian salads could be veganized with the omission of cheese. They have an add-on soy milk option for coffee lovers too!
Vegan First Rating: **
 
NATTI'S NATURALS ORGANIC FOODS AND CAFÉ
LOCATION: ANJUNA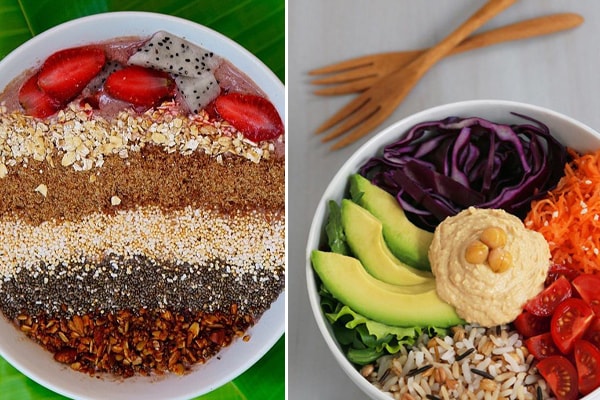 Image courtesy Natti's Naturals
Natti's cafe is a delightful place with a store selling organic goods, a vibrant open air café, a boutique as well as a Yogashala. They have several vegan items on the menu with smoothies, superfood and breakfast bowls. We tried the vegan Mezze platter and Vegan abundance bowl which were wholesome, flavourful and so pleasing to the taste buds. The acai berry cocoa cake was decadent and very fulfilling. It is 'THE' vegan dessert to try.
Vegan First Rating: ****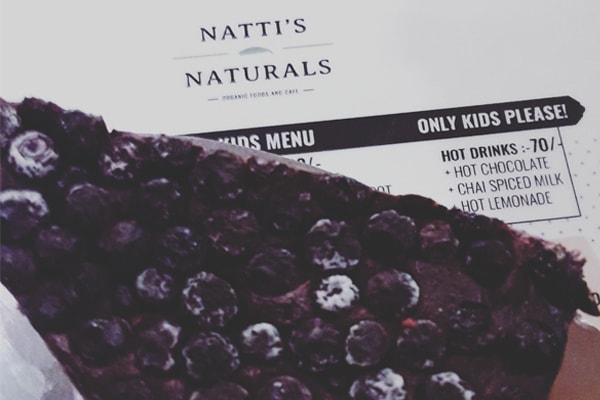 Image Courtesy Vinita Contractor
ARTJUNA CAFÉ
LOCATION: ANJUNA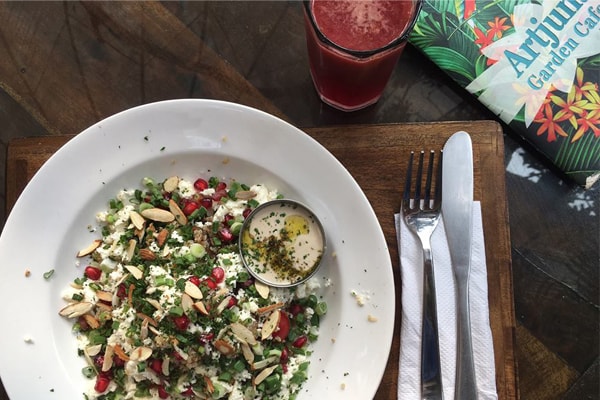 Image Courtesy Artjuna Cafe
The ambiance of this place is lovely as it is but even better if you are here with kids. They have a tree house, a sand play area and quite a bit of space for them to wander around. There is also a store which carries unique handcrafted pieces of jewelry and clothing.
The café specializes in health food and Mediterranean cuisine. They serve sandwiches, salads and mains, all day breakfast, fresh vegetable juices as well as specials. The Falafels, hummus, many of the mains and salads were vegan or could easily be veganized.
Their orange & lime frizzer, and the dark chocolate sorbet were simply mind blowing!
Vegan First Rating: ***
GO WITH THE FLOW
LOCATION: BAGA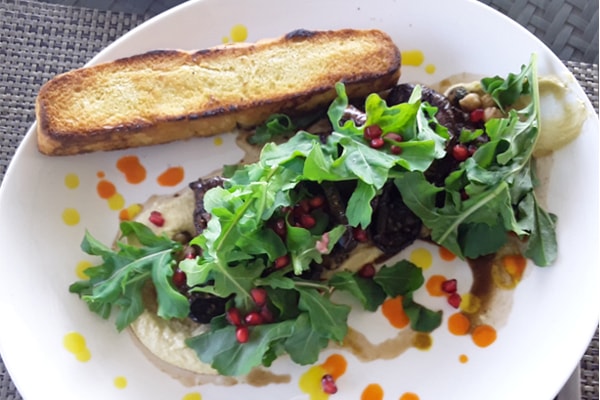 Image Courtesy Vinita Contractor
 
This beautifully located restaurant stands out for its uninterrupted view of the Baga Beach, thanks to the elevated seating. It features international dining with a different menu for lunch and dinner with clearly marked vegan options which is always great to discover. The vegan beetroot salad and the Rustic Sicilian style grilled & marinated aubergine with hummus was delicious with a strong overtone of balsamic vinegar.
Vegan First Rating: ***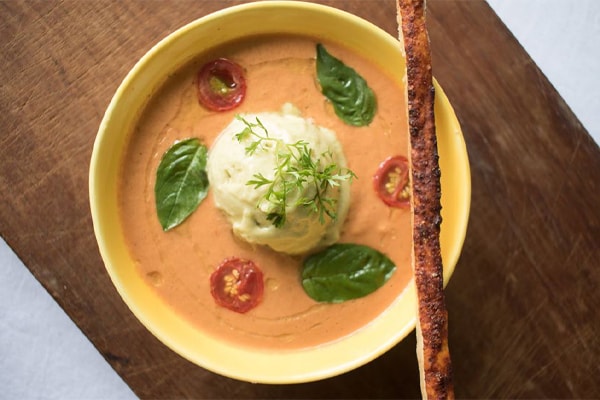 Tomato Gazpacho soup served with avocado sorbet. YUM!
ZEST CAFÉ
LOACTIONS: PATNEM, PALOLEM AND AGONDA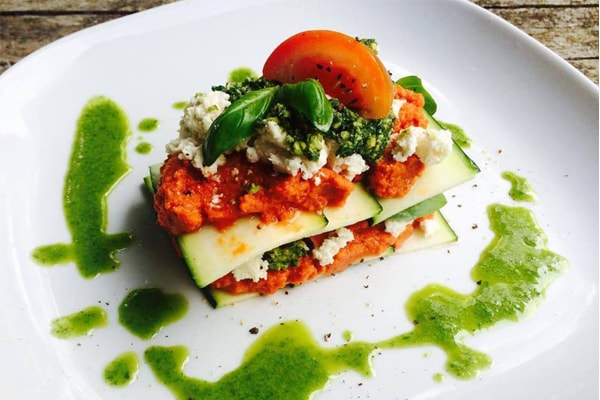 Zest has a group of 3 cafes in Patnem, Palolem and Agonda. Patnem is the smallest and Agonda the largest. A plethora of healthy, organic, vegan, raw vegan and gluten-free food options are available. Their salads, smoothies, desserts and mains are all fresh, flavourful, and high on nutrition. Simple and easy on the stomach, the feeling of eating here is wholesome and filling.
Love their brightly colored patchwork kantha stitched cushions, laid-back casual vibe and the pottery tableware. It brought a smile to my face to see the servers wear t-shirts with the caption 'Peace, Love and Avocado (mango or coconut).'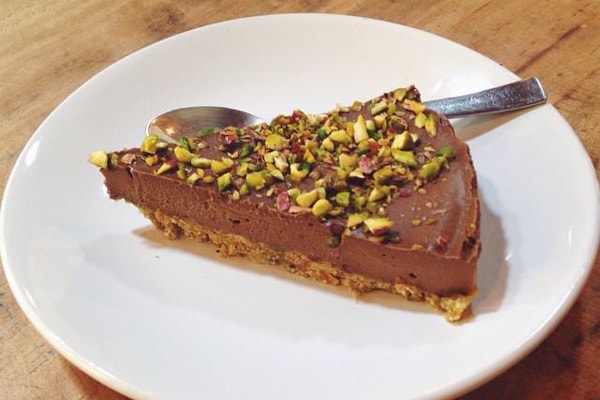 Their Vietnamese summer rolls, Mexican bowl, mango passion fruit sorbet and pistachio cacao cheese cake were exemplary and I'd definitely to go back for more!
Their café in Agonda serves wood fired oven pizza. The vegan pesto pizza was out of the world!
Vegan First Rating: *****
BLUE PLANET CAFÉ
LOCATION: AGONDA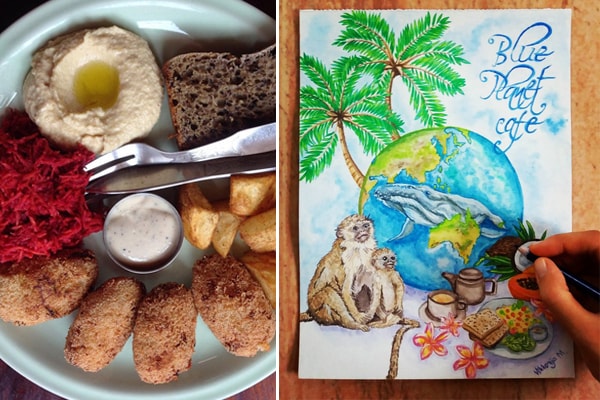 Image courtesy TraviJames and Victorija Marcinkute
This 'tucked-away-into-the-wilderness' kind of place boasts of a variety of vegan and gluten free options.  The atmosphere is calming and serene, with yoga classes taking place regularly at the cafe itself.
Vegan First Rating: **
BHAKTI KUTIR
LOCATION: PALOLEM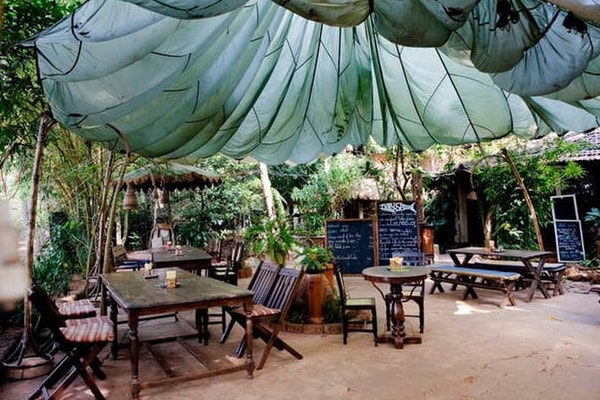 Image Courtesy Bhakti Kutir
 
Their restaurant is set underneath swaying coconut trees, above Colomb village, at the south end of Palolem beach. The restaurant offers vegetarian, vegan and gluten free food made from home grown, largely organic produce. They also have an extensive range of fresh juices. Bhakti Kutir also has 'back to nature' Cabanas which are fashioned from local materials like rice straw and bamboo and make for a great getaway amidst nature.
Vegan First Rating: ***
Goa is truly paradise for vegans on holiday! So head there after you've checked out all the floats at the Carnival Parade.
Carnival Dates: 25-28th February
Location: Panjim, Margao, Vasco and Mapusa 
Time: 3pm onwards
Check out Vinita Contractor's Amazing food and consultancy service company – Vinita Contractor