Restaurant Review: Le Pain Quotidien, Mumbai - An Oasis for Vegans
Le Pain Quotidien means the daily bread.
LPQ is an international bakery-café chain founded in Brussels in 1990 by Alain Coumont. It carries an array of baked goods and coffee drinks as well as a dine-in food menu.
It serves simple, elegant boulangerie fare made with organic ingredients whenever possible; for breakfast, lunch and dinner. It has a presence in 200 locations on five continents which include 4 in Mumbai.
Entering the plush commercial complex in Bandra Kurla Complex; I found my way to Le Pain Quotidien and was very pleased to see a lot of landscaping, sprawling lawns and alfresco seating. I was immediately transported into a semi zen mode. It felt very serene and far away from the city we were in. It was easy to forget that we were on one of the busiest streets of BKC with functional offices just above us.
Service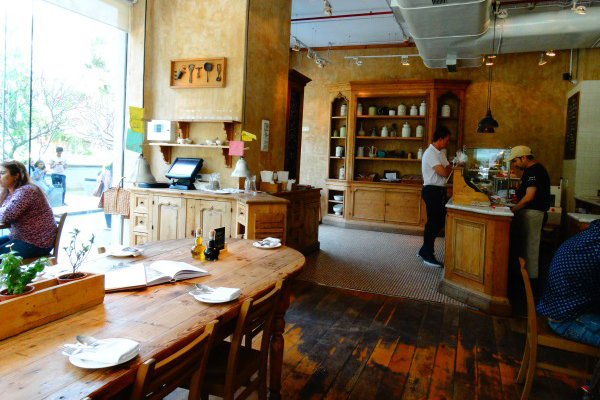 VF Rating *****
The service staff was courteous, prompt and well informed. They were able to point out vegan items effortlessly and it was heartening to know that effort had been put into educating the staff. The orders took a reasonable amount of time to get served, considering that the food is made from scratch. The service was top-notch. Their sign for vegan items is a delightful little orange carrot. Lovely touch!
Price
VF Rating ****
LPQ is known for sourcing fresh and high-quality ingredients; as well as their generous portion sizes. The prices are on the higher side but considering the ambiance, the apparent quality of the food and keeping in lines with the standard of an international chain of cafes, I think it is worth it.
Food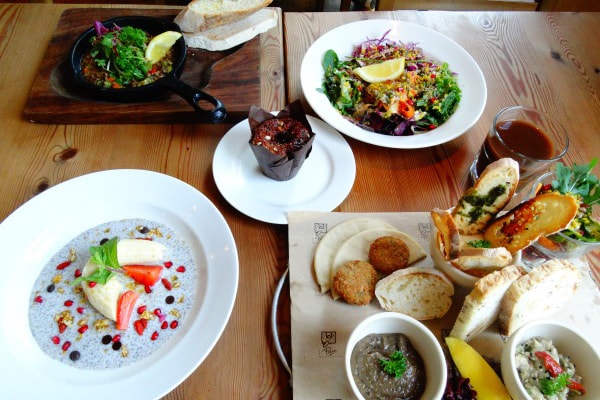 VF Rating ****
I visited LPQ in such a way that I could sample their breakfast and lunch fare. First, I tried the Energy boost juice which was a medley of kiwi, raspberry and green apple. What looked like a mud coloured health drink turned out to be quite a surprisingly delicious drink. Just the right amount of sweet and sour.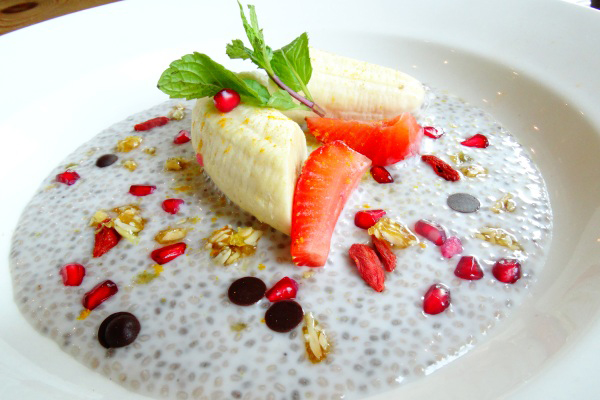 I decided to order 2 of the vegan breakfast options. The banana spilt detox and the oatmeal banana muffin. The banana split detox was gorgeous to look at and one bite into it, I was in heaven. The breakfast porridge dish with plump chia seeds mingled with the thick and creamy coconut milk and a sprinkling of nougat, dark chocolate chips, pomegranate seeds and goji berry, was just divine. The banana added to the already lovely flavours. It was extremely filling and satisfying.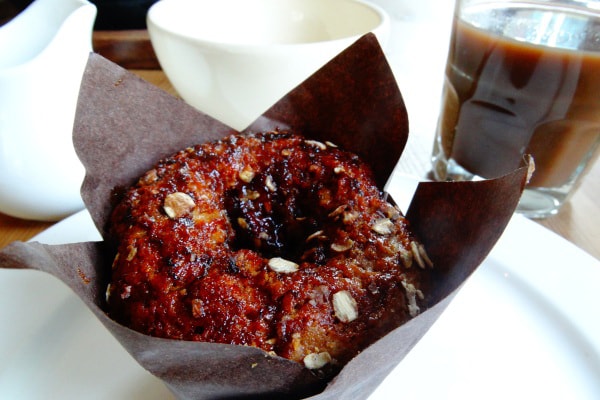 The oatmeal banana muffin looked like a regular muffin but tasted anything like one. The banana flavor was not overpowering, there were many spices on the lines of cinnamon which added a lot of flavours and the texture was moist with a fine crumb. It felt like a really wholesome and nice muffin to complete a breakfast or snack.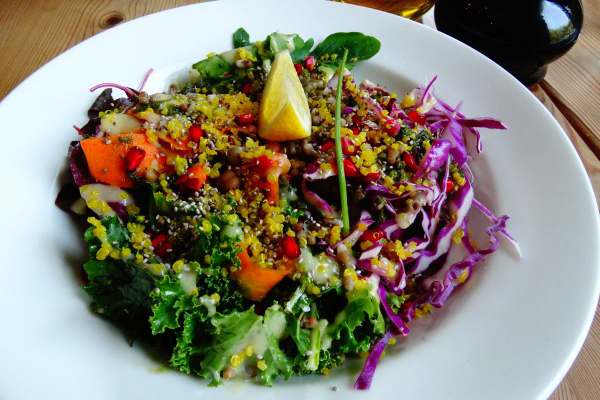 I decided to catch up on some calls and emails while I could work up an appetite for lunch, which took a while. Once peckish I ordered the Detox salad, the Mediterranean platter and finally the Organic mixed rice and lentil risotto. The salad was crunchy and refreshing with purple cabbage, a generous amount of greens such as rocket, kale, micro greens and sprouts with an interesting dressing.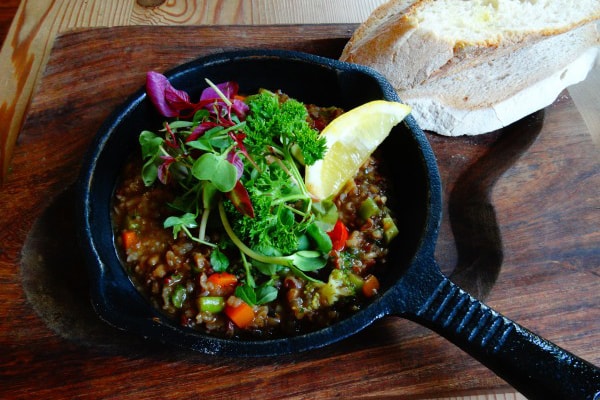 The Organic mixed rice & lentil risotto was a hearty main course dish with a very warm comfort-food like feel. The flavours were mild but quite diverse. There were many vegetables in the risotto making it a very healthy and tasty option for a meal. It was topped with a good amount of greens and micro greens. I liked the cast iron pan it was served in. It added to the rustic and country-style look and feel of the dish.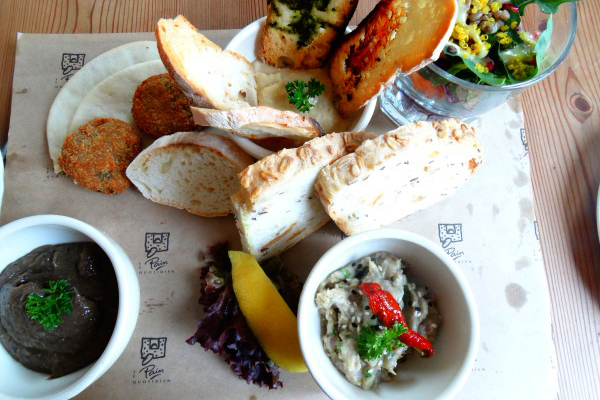 Lastly, I tried the Mediterranean platter which came with 3 dips, LPQ's special sourdough bread varieties and a couple of falafels and pita bread. Sourdough bread is the healthiest kind of bread one can eat as they are only made with flour, salt, water and wild yeast - making it naturally vegan. The fig olive tapenade had an interesting sweetish tinge due to the addition of figs and that paired well with the usual tangy flavor of olives. The hummus was spot on. Relished it with toasted crostinis. The eggplant dip was reminiscent of the classic Babaganosh. The falafels were a bit lacking in flavor. The chickpeas were not completely mashed. The suggestion to season the falafels a bit more and to mash the chickpeas was well received by the serving staff.
Also, I made a suggestion to the staff to start offering soy milk as an alternative to milk for vegan coffee lovers. It would make the experience of being in a café such as this complete.
Ambience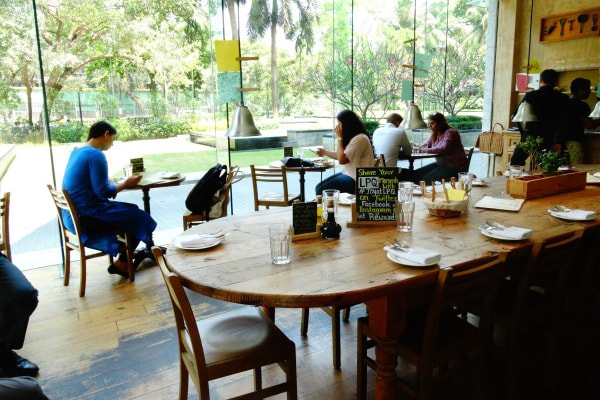 VF Rating *****
My first impression of Le Pain Quotidien was of warmth and of a community due to its huge communal table right in the center of the café. The interiors of the place are entirely done up with wood, the kind that will remind you of French cafés.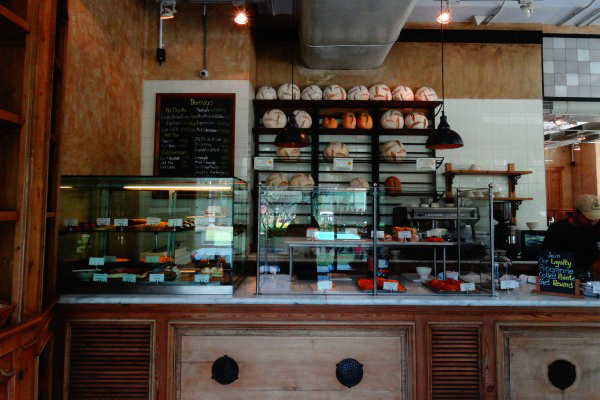 With notes clipped on from happy guests on their retro lampshades, their huge display counter full of sourdoughs and delectable pastries and their wooden cabinet stacked with jars - it was a quintessential picture of a quaint and friendly café. There were many cozy tables for 2 overlooking the refreshing lawns and blooming frangipanis.
All in all, it was a very pleasant and fulfilling dining experience. It's definitely a place to go with friends. Will come back for the other vegan items on the menu.
*All Images courtesy Vinita Contractor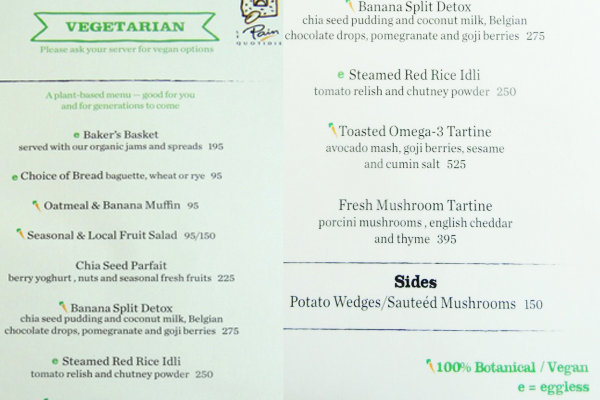 About Author
Vinita Contractor, founder of Down 2 Hearth, is a passionate advocate of the benefits of plant-based nutrition and doing her bit for the environment. She is happiest when taking a walk in the mountains or eating an organic home-cooked meal with her family.
After a professional background in Commerce and subsequently Education ( Bachelor's Degree and a certificate in Waldorf education), she found her true calling with Down 2 Hearth after turning vegan in May 2015. Down 2 Hearth is a passionately run food and consultancy services company with an eco-sensitive approach, bringing in health and wellness through plant-based organic food.
A lifelong learner and lover of yoga, Vinita loves experimenting with new recipes and trying out new combinations, which not only nourish the body but also satiate the taste buds. Vinita has attended courses at The Health Awareness Centre and workshops with Sharan, India and is nearing completion of certification in Plant-Based Nutrition, eCornell, New York, US. She is also pursuing a certification in Raw Food Nutrition, UK.
Vinita is married to her best friend and her biggest supporter, and they love traveling with their two sons and being out surrounded by nature!